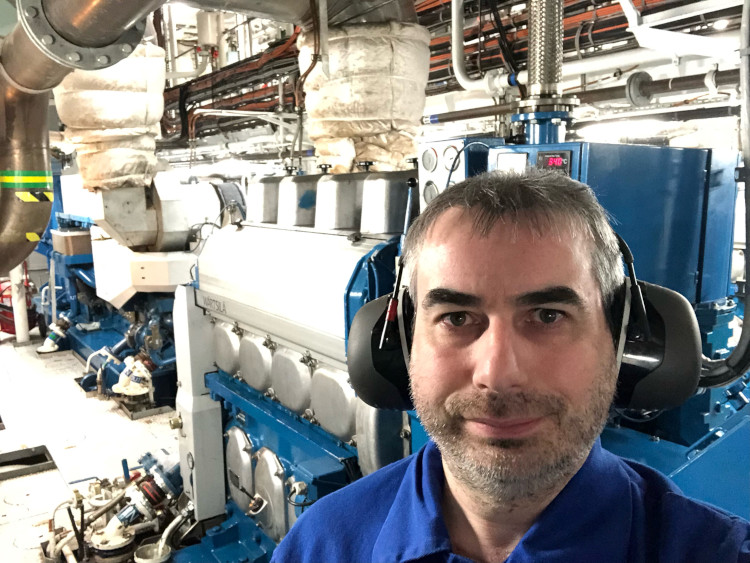 The Maritime Charities Group (MCG) Covid-19 Redundancy and Retraining Bursary Fund has been extended for a further 3 months to the end of March 2022 in response to continued concern about the plight of seafarers who are unable to get work in the sector.
The fund, which is administered by the Marine Society on behalf of MCG, provides extra cash for training and refresher courses and is aimed at merchant seafarers who've lost work due to Covid-19 and want to stay in the industry. Applicants can claim up to £500 towards training or qualifications of their choice.
Chair of MCG, Commander Graham Hockley LVO RN said: "We know that the jobs market is still precarious and we want to help where we can. By providing grants for training and refresher courses we are helping seafarers get new jobs in the industry. 76 seafarers have benefited from the fund since it opened just over a year ago and many of them are now working again. So it really does make a difference."
The fund was set up by MCG in November 2020 with contributions from Trinity House, Nautilus Slater Fund and the Merchant Navy Welfare Board. So far they have awarded over £35k towards the cost of a wide range of training courses including certificate renewal and retraining for offshore and wind farms.
Commander Hockley continued: "In the run-up to Christmas when budgets are likely to be stretched, if you don't have a job and can't afford to retrain or refresh your qualifications, life can look pretty grim. Our Covid-19 bursary fund is for seafarers just like you. If you're based in the UK and have lost work due to the pandemic, the MCG bursary could help you get back into employment or retrain for a new role in the industry. It covers everything from certificate renewal to writing job applications, from retraining to interviewing skills. Just go to the Marine Society website and apply today. And don't forget: tell your crew, tell your colleagues, tell your mates!"
To find out more about the MCG Redundancy and Retraining Bursary Fund and how to apply go to https://www.marine-society.org/redundancy-fund
CASE STUDIES – Here are some of the people we've helped
ALLAN DICKSON
Allan Dickson is a Second Engineer and has been out of work since almost the start of the pandemic.
"I took a deep sea job and ended being caught in the crew change crisis. I only managed to get home by resigning. Since then I have continued looking for work and have taken agency roles to make ends meet. I applied for the bursary because my STCW certificates were about to expire. The MCA had already said there would be no more extensions and without them I would be unable to work. With help from the Covid-19 bursary fund I've now completed my STCW refresher training and secured a 6 week contract with potential for further work."
When asked what he'd say to others in the same position, Allan said: "I would encourage anyone who's struggling to find work to apply. A training course for a new sector could open up new opportunities. Or if like me your STCWs are expiring soon then apply. There is little in the way of financial help available for seafarers and these past few years we have given so much. When a chance of assistance is there, take it."
JAMES WILCOX
James Wilcox was a Deck Officer in the cruise industry when the pandemic hit. He was out of work for a long time.
"Rather than sit around and wait for the pandemic to pass, I decided to enrol in a part-time distance learning degree with MLA College. I figured employers would be asking candidates what they did during the pandemic and I wanted to demonstrate that I had used this time well by continuing my professional development at home.
The cost of education is high and so the funding I received from Maritime Charities Group helped enormously. It allowed me to continue with my studies and enabled me to find new employment in the maritime sector. My new employer commented that the fact that I had been studying a maritime-themed degree during the pandemic really made me stand out as a candidate. So I owe my new employment to MCG and the funding they gave me - I would not have been able to finance my educational commitments without them."
FOR MORE INFORMATION
For all press enquiries, please contact Ben Gibbons, MCG Manager on 07793 219208 or email manager@maritimecharitiesgroup.org
ABOUT MCG
The MCG fosters collaboration across the maritime charity sector. It does this by sharing information, commissioning research, supporting the education and welfare of seafarers and their families and by the promotion of best practice within the maritime charity sector. Our vision is for a maritime charity sector that works collaboratively to achieve the greatest impact for seafarers and their families.
---